BECOME A FRUIT GROWERS VICTORIA PARTNER
At Fruit Growers Victoria (FGV) our aim is to create mutually beneficial partnerships with organisation who are committed to our mission which is to ensure a sustainable future for horticulture across Victoria.
FGV is a trusted representative for our member base and represents over 300 fruit growing, packing, and exporting businesses across the North-East, Central and southern growing regions of Victoria.
Partnering with FGV is a unique opportunity to directly engage with growers, the regions and industry through:
Business events and networking opportunities
Digital and print business promotions
Strong client and industry relationships
Support of local events and projects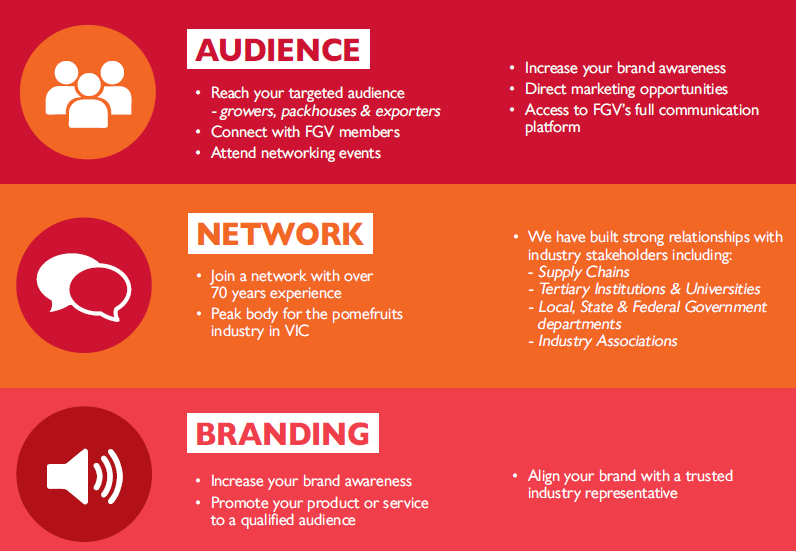 Our Partnership Package offers a variety of exposure levels and the opportunity to develop a mutually beneficial partnership that will align with your business goals.
If you would like to take find out more information or take advantage of this opportunity, please contact FGV's Business Development Officer, Leanne Johansson on P: 0448 288 253 E: This email address is being protected from spambots. You need JavaScript enabled to view it. or call our office on 03 5825 3700.
Platinum sponsor
Tie Up Farming

Tie Up Farming offers the only cloud-based end-to-end operations platform for the horticulture industry (fruit and vegetables), translating open-field farming into an accurate, yield-driven operation.

Our focus is on the field user in the labour-intensive medium to large agribusinesses. We create one point of data capturing during the farming process enabling the data to be streamlined in the agribusiness.

Other than the control and command modules we utilise QR barcodes and integration to sensors on the farm to capture more data.

Tie Up Farming software solution provides the following innovations:

Focusing on the labour-intensive open field agribusinesses yield optimisation
Focusing on the human aspect on the farm
Looking at the packhouse and the farm as one entity
One data entry point on the farm and on the packing shed
Focused on the field user
Full cost capturing and ROI for the farm allowing for full traceability

Currently, the biggest competition is pen and paper and excel spreadsheets. Because we are focusing on the labour-intensive horticulture agribusinesses, we provide them with a one-stop-shop to manage thefarm. As an example, In the most basic way, it is almost impossible to find software solution that allows the agribusiness to manage its chemicals and fertilisers and manage their labour with a QR barcode system to provide full traceability and ROI.
Tie Up Farming provides that and more, for example:

Scouting and Recommendation,
GPS to track equipment
Farm cost break down
Harvest management
Chemicals and fertilisers management
Tasks management, and more.

Contact person: Roberto Ciancio - Head of Sales
phone 0403 704 826 or 1300 944 318
This email address is being protected from spambots. You need JavaScript enabled to view it.