Future Orchards
Orchard Walk – Northern Victoria
Future Orchards is a project designed to increase production, lower orchard production costs per kilogram of fruit, increase the percentage of premium fruit harvested and bring Australian orchardists up to international competitiveness in the domestic and export markets. APAL holds regular orchard walks to circulate information to growers. Orchard walks are important part of Future Orchards - they consist of two parts, presentation and a visit to one local orchard.
The Goulburn Valley orchard walk was held on Friday 1st of July 2016. Despite the rainy weather, the 65 people attended.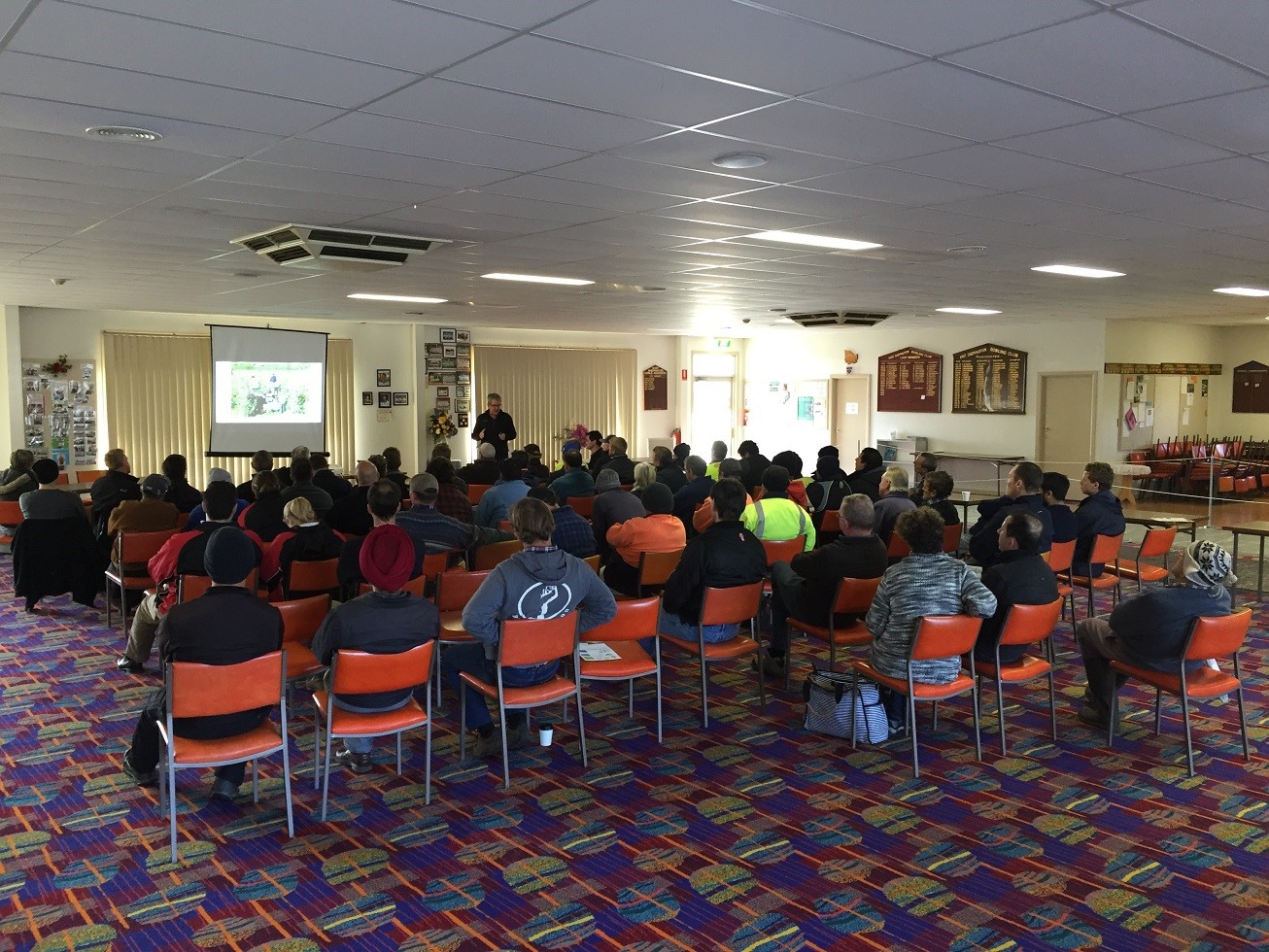 Growers had an opportunity to see presentations made by Tiennie Du Preez from South Africa, Ross Wilson from AgFirst and Petar Bursac from Fruit Growers Victoria. The second part of the event, the visit to a local orchard was held at Silver Orchards, Orrvale.
Tienie Du Preez has worked in South Africa's fruit production industry for 40 years' across a range of crops including pome fruit, stone fruit and persimmon. His knowledge of the industry led him to develop a simple but accurate system for foliar and soil nutrition application to fruit crops.
Tienie grew up in the apple growing region of Eastern Cape, South Africa, has been involved in various research projects and has worked as an international agricultural consultant. He has also received various awards for his contribution to the South African fruit industry. Tienie's presentation was about creating the appropriate nutrition program, nutritional disorders, soil investigation to identify and eliminate all limiting factors including uneven nutritional distribution. According to Tienie, the a successful nutritional program for apples must take all limiting factors into account and must integrate all relevant factors influencing nutrition. A total approach is necessary to design perfect nutritional programs for apples.
Ross Wilson is a founding member of AgFirst in New Zealand and brings over 30 years horticultural experience to the business. A grower in his own right, Ross has frontline experience with the issues orchardists face, and offers his grower clients a complete consultancy service. Grower education is a passion, and Ross is a key driver of APAL's Future Orchards® program, he regularly leads field days for various projects, ensuring the latest technical advances and good tree management techniques make it to the hands of growers. Ross's presentation was about the designing of labour efficient canopies. According to Ross, the fundamentals of an apple canopy are that a canopy intercepts a minimum of 70% of total available light with even light distribution throughout. The combination of rootstock, system and with density that is able to fill the allotted space quickly means a canopy that allows for maximum labour efficiency (total labour cost below 40c/kg) etc.
Petar Bursac from Fruit Growers Victoria presented results of Future Orchards Field Trials for Norther Victoria. Every year, as a part of the project, two field trials, selected by COG (Community Orchard Group) members according to local requirements and conditions are conducted by Fruit Growers Victoria. This year's trials were focused on Apple Colouring and Inducing of Early Cropping of Pears. The results of trials for both, Northern and Southern Victoria will be available to download below.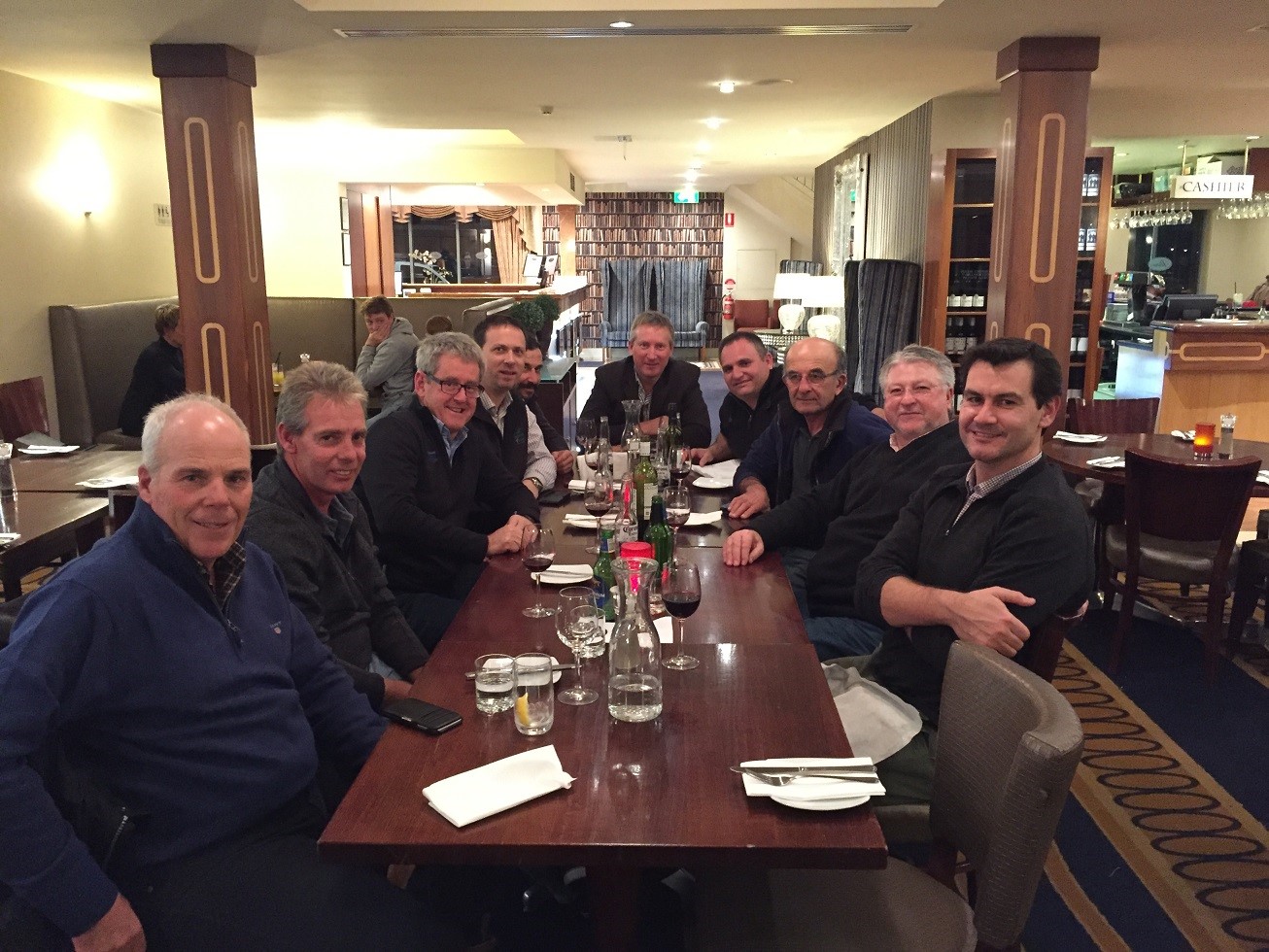 Community Orchard Group (COG) Members for Northern Victoria
After the presentation, growers had the opportunity to see the practical part of the presentation which was held on Silver Orchards on blocks allocated to the Future Orchards Project called Focus Blocks. Tienie explained some of soil and root problems which can be limiting factors in apple production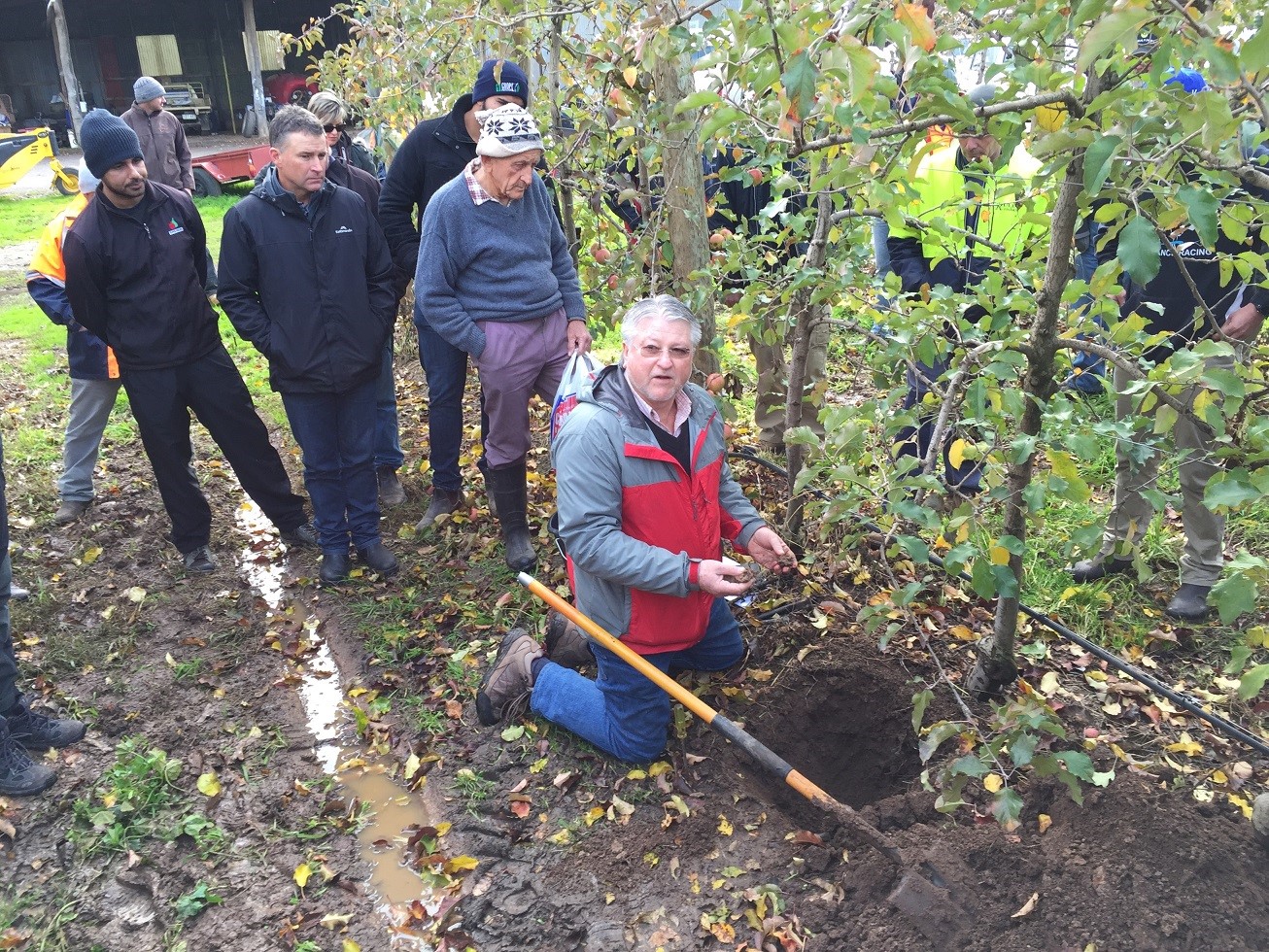 Tienie Du Preez
Ross Wilson and guest speaker from Italy, Dr Nicola Dallabetta, showed some of the principles of winter pruning. Nicola specialises in new techniques on manual pruning in intensive and super-intensive orchard systems. He has demonstrated one of the short pruning techniques to growers on two different blocks of apples. Nicola will be in Australia as a visiting scientist thanks to the University of Tasmania with support from the Tasmanian Institute of Agriculture.

Ross Wilson (AgFirst) and Dr Nicola Dallabetta, Centre San Michele all' Adige, Northern Italy
We would like to thank Silverstein family for their participation on Future Orchards Project and giving us opportunity to visit their beautiful orchard and exchange new practices in apple and pear production.
Written by: Petar Bursac, Industry Development Manager, Fruit Growers Victoria