Due to no allocation of state promotion funding this year, FGVL will be reluctantly winding back the in-school promotions. We would like to thank Helene Armour and her team of volunteers for the 15 years they have dedicated to the "Fruit for Life" program, which has not only been of benefit to the growers but also the children who hopefully grow up with an appreciation of apples and where they come from. For further inquiries, please contact

Horticulture Innovation Australia.
_______________________________
FGVL proactively promotes apples and pears in Victoria. This includes support of regional events and festivals as well as major projects such as the Fruit for Schools program.
If your school would like to be part of this great program, please This email address is being protected from spambots. You need JavaScript enabled to view it. the Program Co-ordinator for further information.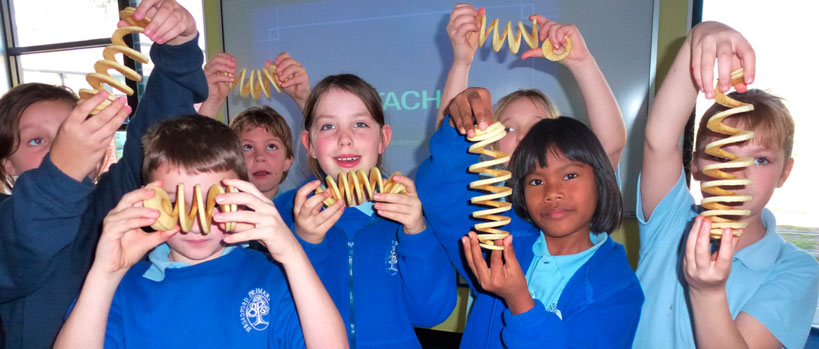 For the thirteenth year in a row Victorian apple growers along with "Aussie Apple" will take the healthy eating message into schools across Victoria. The popular program sponsored by Fruit Growers Victoria Ltd. involves a "do it yourself" School Kit, a box of Aussie Apples for the class and a slinky machine so that the class can make their own "apple slinkys" for their morning snack. The children also receive a show bag of goodies including a colourful little storybook, which tells how Aussie grows from a little blossom into a juicy red apple.
Also included in the pack is a teacher's kit that will include a demonstration guide, DVD, extension activities and further resources.
We have had wonderful feedback from the schools that have participated, the following comments are from two of last year's schools that were involved :
"Thanks so much, you have made apples more exciting for the children and we are seeing more of them being eaten."
Wandiligong Primary
"Students were engaged and enjoyed the lesson."
Wooragee Primary
Feed- back from schools suggests the program is successful in introducing children to the delights of eating fresh fruit with an increasing number of children bringing apples to school following their visit. The ingenuity of teachers as they encourage the children to write stories, draw pictures and sing songs extends the memory of the event over a number of days further enforcing the apple grower's message.
This is a free program to Victorian schools and is funded by Victorian apple and pear growers; with an aim to encourage children to eat more Australian fruit.