Rhonda Tannous of Why Not? Wooden Bakery, Dandenong Market
Husband and wife team Kamil and Rhonda Tannous opened the Why Not? Wooden Bakery at Dandenong Market in August 2011. The couple bakes traditional Lebanese pizza and pastries of various flavours, all baked daily and while you wait. The shelves are packed with Middle Eastern groceries (from rose water and pomegranate syrup to tahini) and the fridge is stocked with haloumi, kibbeh (football-shaped patties of mince and pine nuts) and cans of alcohol-free beer. Plus, first thing on market days, Brunswick's Balha's Pastry delivers freshly made sweets such as knefeh (a semolina-biscuit sandwich filled with clotted cream and drizzled with sugar syrup).
Why Not? Wooden Bakery, Dandenong Market M: 0422 896 928
Rhonda's Lebanese Spiced Poached Pears with Seven Spiced Yoghurt & Roasted Hazelnuts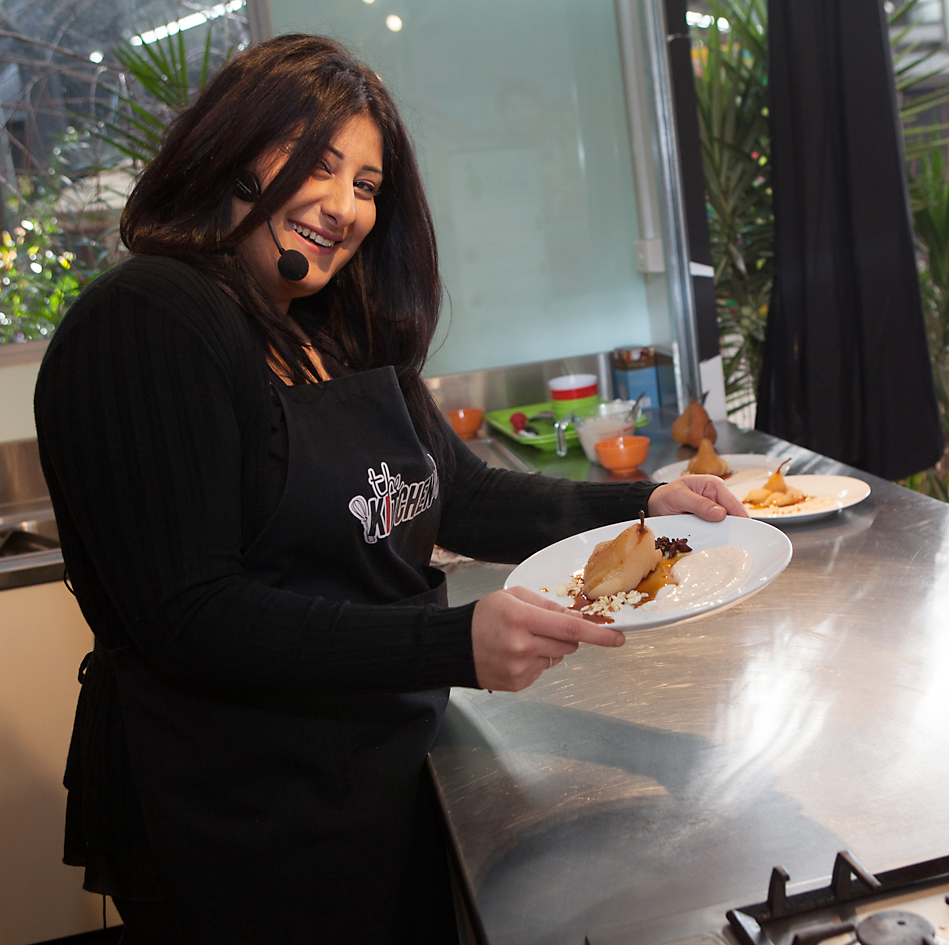 Serves 4-6
500ml pomegranate molasses

200ml orange juice

150g palm sugar

2 star anise

300ml water

1 tsp sumac

6 pears

1 tsp baharat (see Tip)

200ml yoghurt

Juice and finely grated zest of 1 lime

60g hazelnuts
METHOD
In a large pot slowly warm up pomegranate molasses, orange juice, palm sugar, star anise, water and sumac until boiling. Reduce heat to poaching temperature (staying hot but not bubbling).

Peel pears but leave stalks on. Taking care to keep pears intact, remove cores. Immerse pears in poaching liquid and poach until tender, 15-20 minutes (depending upon ripeness). Remove carefully and set aside.

Bring remaining liquid to boil and reduce until it coats back of spoon.

Heat a frypan over low heat, and toss hazelnuts until warmed and skins have blistered. Roll hazelnuts in clean tea towel to remove skins then chop roughly and set aside.

Combine yoghurt with baharat, lime juice and zest and set aside.

Make diagonal cuts in pears to fan them and drizzle over some reduced syrup. Spoon on a generous amount of spiced yoghurt and sprinkle with chopped roasted hazelnuts.
Tips:
To make this dish even more aromatic, add fresh ginger and/or lemongrass to poaching liquid.

Baharat (also called seven spice blend) is an all-purpose seasoning used in Middle Eastern cuisine. It is an aromatic mix of cumin, pepper, paprika, cardamom, cinnamon, coriander and nutmeg.

Choose a smooth, creamy yoghurt to give this dish the total wow factor on the palette.