The following permit has been issued by the Australian Pesticides and Veterinary Medicines Authority (APVMA):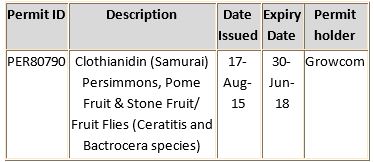 A copy of the permit is attached below.
All efforts have been made to provide the most current, complete and accurate information on these permits, however we recommend that you confirm the details of these permits at the following APVMA website: https://portal.apvma.gov.au/permits
Also attached is a Non-Performance Reporting Form for Horticultural Pesticides*. This form should be completed when an adverse experience occurs as a result of using the permit.
* A 'non-performance' is an unintended or unexpected effect on plants, plant products, animals, human beings or the environment, including injury, sensitivity reactions or lack of efficacy associated with the use of an agricultural chemical product(s) when used according to label (or permit) directions.