Over 120 audits have now been conducted against the new Harmonised Australian Retailer Produce Standard (HARPS), and the feedback from audited businesses, auditors and retailers has been very positive.
Following a four-year development period, the Horticulture Innovation Australia (HIA)-funded Scheme was launched in October 2016.
This world-first initiative set out to harmonise the food safety certification requirements of Australian chain retailers in order to reduce the duplication of food safety audits required when a direct supplier has multiple retail customers. The project has been made possible by the strong collaboration between participating retailers – ALDI, Coles, Costco, Metcash/IGA and Woolworths.
The new harmonised arrangement is simple. Direct suppliers are required to be certified to one of four globally recognised schemes (BRC, Freshcare, GLOBALG.A.P. or SQF). The scheme chosen is referred to as the base standard. The Retailer Stakeholder Working Group has harmonised the additional food safety elements that Australian retailers have developed over the last fifteen or so years into one combined standard – called HARPS – which is audited at the same time as the base scheme. All participating retailers are now accepting direct suppliers certified against the appropriate base standard plus HARPS.
Direct suppliers to the chain retailers are growers, grower-packers and wholesalers/brokers who pack into retailer-branded packaging and/or invoice the retailer. This includes sub-contract packers and co-packers. Retailer-branded packaging includes crates, cartons, bins and other packaging that bears the retailer's name on tags, labels or film.
The HARPS scheme applies to whole fruit, whole vegetables and nuts-in-shell. HARPS does not apply to processed or value-added lines. Direct suppliers are required to be certified to the base scheme plus HARPS by 1st January 2018, so all direct supplier audits being conducted in 2017 must include the HARPS standard.
Indirect suppliers to the chain retailers are those who supply direct suppliers. This includes growers supplying packers, and packers who are not packing into retailer-branded packaging. From 1st January 2019, indirect suppliers will be required to be certified to one of the four base standards (BRC, Freshcare, GLOBALG.A.P. or SQF). Codex HACCP will no longer be accepted. Indirect suppliers are not required to be certified to the HARPS standard but can do so if they wish. It is interesting to note that some are wanting to.
The project has been supported by the Australian Competition and Consumer Commission and the Australian Food and Grocery Council. HARPS is managed by PMA Australia-New Zealand, with the Project Team, led by Kitchener Partners, actively engaged with a range of stakeholders.
For further information including the standard, scheme rules and a comprehensive Q&A, go to www.harpsonline.com.au.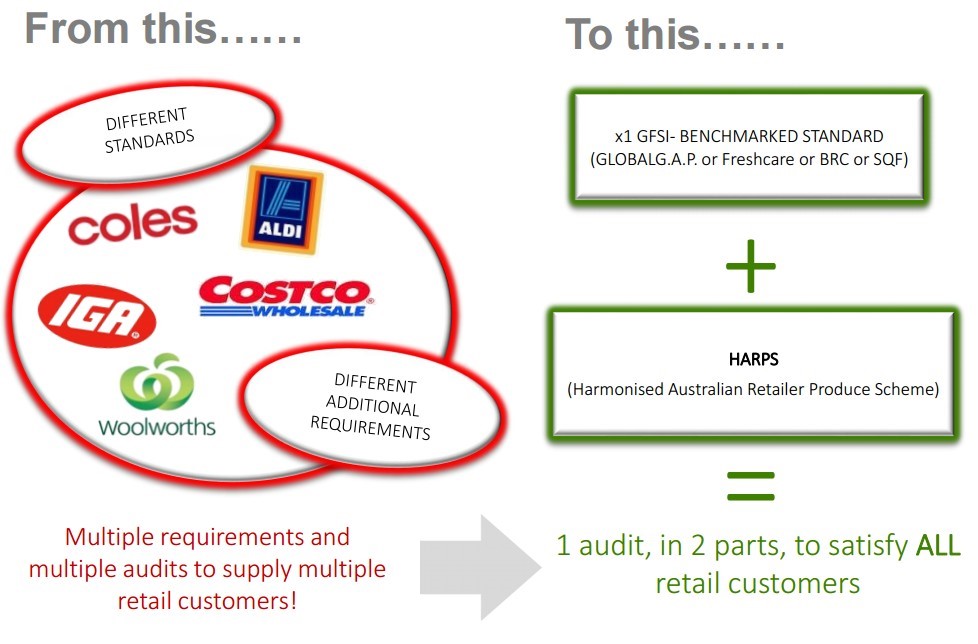 Author: Richard Bennett, Food Safety & Science Manager, PMA A-NZ & Fresh Produce Safety Centre A-NZ