How to Improve Apple Colour?
By Petar Bursac, IDO

Colour management is an extremely important part of the apple production process. Apple peel colour determines apple market acceptance and colour branding has been incorporated into the grading standards of many varieties of apples.
In general, well-coloured bright red types of apples are preferred by consumers who buy on impulse and associate peel colour with level of fruit ripeness. Therefore, poor and erratic fruit colour development in red varieties of apples, causes serious economic losses to the growers. For these reasons, varieties which do not colour very well (i.e., Gala and Fuji) are being bred to produce apples with deeper and deeper red. Therefore, as growers, it is extremely important that their fruit develop as much colour as possibly.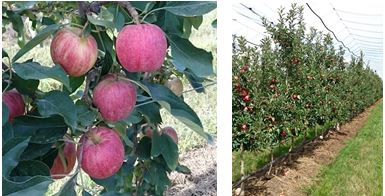 Good fruit colour of Gala Apple with deep red over a slight yellow background (Silver Orchards, Orrvale)
Anthocyanin concentration is an important determinant of the colour of fruit. Besides anthocyanins, the apple contains many compounds such as chlorophyll, carotenoids, and flavonoids which can blend together to produce its colour.
Anthocyanin accumulation in apple fruit can be affected by environmental, nutritional, and orchard management factors, the stage of maturity of the fruit, and by the microenvironment within the canopy.
Light:
The biosynthesis of anthocyanins is strongly light dependent. Some preharvest practices such as pruning, reflective mulches and use of shoot growth retardants improve fruit skin colour.
- Blue-violet (BV) and ultraviolet (UV) light, especially UV-B, are the most effective at inducing colour development (increased UV light after rain or at higher elevations).
Temperature:
- Colouring of apple fruit is increased by low temperatures such as those encountered on cold nights, especially on poorly exposed areas. If cool night temperatures are followed by excessive (> 30 °C) daytime temperatures, the positive effects on anthocyanin synthesis will be negated. The critical colouring period, in regards to temperatures, is two to three weeks before harvest. Optimum temperatures for red colour formation vary among cultivars, but are generally between 20 and 25 °C.
Nitrogen:
- High nitrogen rates reduce red coloration by increasing foliage and thereby reducing light penetration into the canopy. Although the percentage of well-coloured fruit may be lower at the high N fertilization rates, the total yield of well-coloured fruit may actually be higher. Excess nitrogen may also be used to inhibit anthocyanin production in green apple cultivars such as 'Granny Smith' where reddening is undesirable.
- In bearing-age trees, fruit colour development is delayed when nitrogen levels are too high. If other factors are equal, the percentage of red colour is reduced by about 5% for each 0.1% increase in leaf nitrogen.
Potassium:
- Potassium (K) fertilization enhances anthocyanin accumulation and red coloration of apples by compensation of some of the negative effects of higher nitrogen rates on apple coloration.
Boron:
- Anthocyanin accumulation appears to be relatively insensitive to high boron concentration within the fruit.
Canopy Management:
- Canopy management is the most important factor in improving apple colour.
- Shading fruit from the sun, such as within a tree canopy, can reduce colour development. It has been found that fruit coloured best if they received more than 70% of full sunlight and did not colour well if they received less than 40% of full sunlight. When pruning, a compromise must be made so that enough wood is removed to achieve high light levels without reducing yield too much.
- This should be achieved through winter pruning alone, although summer pruning may be required on some high vigour varieties, such as Royal Gala and growing systems.
The simple pruning rules for Royal Gala:
Identify where the best quality buds are growing.
Remove 6 & 12 o'clock shoots (avoid total removal of buds from limb - check by counting).
Remove most 'Coral Wood' (weak spurs) from main trunk.
Avoid large cuts this season, as this may remove too many buds.
Long prune laterals to simplify structure and encourage weak pendant growth.
Simplify tops and select new single main leader.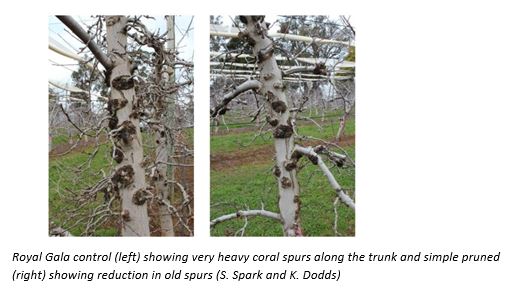 Roots:
- Dwarfing and semi-dwarfing rootstocks and possibly growth-reducing interstocks tend to increase anthocyanin accumulation in apple fruit because of less canopy shading.
- Rootstocks may also have a more direct effect on coloration; fruit grown on dwarfing rootstocks coloured better than fruit grown on vigorous rootstocks even when they were exposed to the same amount of light.
- Root pruning can increase anthocyanin accumulation but may also reduce total yield.
Crop loading:
- Excessive crop loading (i.e., fruit clusters of 2 to 3 fruits) reduces fruit coloration through direct shading of neighbouring fruit, or through competition for assimilates needed for coloration.
- Crop loading is a significant factor for maximizing both fruit colour and fruit size. Fruit thinning is therefore needed to ensure the fruit to leaf ratio is within the desired range (i.e., at least 10 to 15 leaves per fruit) to reach an adequate size, and that apples are not in contact with each other so as to cause mutual shading.
Reflective mulches:
In commercial fruit culture, different treatments are applied to improve light penetration into the tree canopy such as, growing dwarf trees, training and pruning. In spite of these efforts it is almost impossible to obtain adequate irradiation of lowest branches of the tree.
- According to research findings in Europe, reflecting mulch increases reflective light intensity 8 times in the lowest part of tree canopy, but its effect on improvement of apple colour is minimal because only 1/3 of apple crop was located in the zone where reflective light was active.
The energy value of reflected light is much lower than that of the direct sunlight and probably doesn't play a significant role in photosynthesis. For this reason, reflecting mulch applied as early as June and kept during the whole season had no effect on fruit bud formation, fruit setting, mean fruit weight, firmness and TSS content. This shows that application of reflective mulch early in the growing season is unfounded. It should ll be applied 2-3 weeks before apple harvest.

Regulated deficit irrigation:
Regulated deficit irrigation (RDI) is a technique that has been shown to increase the intensity of red colour in apples. It involves supplying less water to the plant than it requires for maximum transpiration and growth, thereby inducing a low level of water stress. The vegetative growth of the tree is reduced, allowing more light to penetrate the canopy and colour the fruit. Regulated deficit irrigation (RDI), partial rootzone drying (PRD) and withholding irrigation (WHI) has been reported as effective water savings strategies in improving water use efficiency in apple industry and possibly, enhance fruit quality especially colour development in apple fruit. These irrigation approaches lead to less nutrient and biocides losses to underground water and also saved water use.
Recommendations for Regulated Deficit Irrigation according to research results from Western Australia (Sembok and Binti, 2009):
1. Regulated deficit irrigation (75% RDI) at stage II of fruit development commencing from 135 DAFB continuously for 72 days may be used for improving fruit colour development and other fruit quality attributes and also prolonging storage life (0 ±0.1 °C, 90±2.0%RH) and in CA (2.7% O2 + 1.9% CO2 at 0°C).
2. Withholding irrigation for 20 to 30 days at stage II and III of fruit development (commenced on 135 and 145 DAFB) may be used for enhancing the development of fruit colour without adversely affecting fruit size and other fruit quality attributes at harvest and following cold storage of 'Cripps Pink' apple.
Chemicals:
A range of chemical products have been trialed for use as colour enhancers of apples. For more information on available products please visit APVMA PubCRIS database (https://portal.apvma.gov.au/pubcris ).
References:
W. Sembok, W. Binti (2009), Regulation of Fruit Colour Development, Quality and Storage Life of 'Cripps Pink' Apple with Deficit Irrigation and Plant Bioregulators, Curtin University of Technology, Western Australia
M. Ritenour and H. Khemira (2007), Red Colour Development of Apple: A Literature Review, Washington State University—Tree Fruit Research and Extension Centre
S. Gurnsey and G.S. Lawes (1999), Postharvest Information Network, Improving Apple Colour, WSU Tree Fruit Research & Extension Centre, Wenatchee WA
S. Spark and K. Dodds (2013), Focus Orchard Trial: Will simple pruning rules improve Royal Gala performance, HAL, AgFirst and APAL
A. Mika, W. Treder, Z. Buler, K. Rutkowski and B. Michalska (2007): Effects of Orchard Mulching with Reflective Mulch on Apple Tree Canopy Irradiation and Fruit Quality, Research Institute of Pomology and Floriculture Pomologiczna 18, 96-100 Skierniewice, Poland